My Breakfast Routine + 2 Ingredient Homemade Bagels
I recently shared a yummy breakfast sandwich which was delish but slightly outside of my normal breakfast routine. But let's be clear, since finding out I was pregnant and the hunger pains kicking in I've been on a very different breakfast routine than pre-pregnancy.
Breakfast Background:
I have ALWAYS been a braekfast person. A few years ago I was on a routine of greek yogurt with homemade granola. Then I did Whole30 and I switched to a routine of 2 hardboiled eggs and blueberries. But now that isn't enough to sustain me, and after a year and a half of mostly cutting dairy out of my diet it's back in. Same with bread. Well bread I hadn't "cut out" but I wasn't eating it for breakfast, or really at all during the week.
Current Breakfast Routine:
Since I wake up most mornings between 5 and 6 am to teach classes I have to eat something right away before my first class to sustain me. This is either cottage cheese and grapefruit, or plain rolled oats with blueberries. Those are my go-to's.
After class I usually sneak my own workout in and by the time I'm home around 9:30am I'm ready for another breakfast (plus my special DHA shake!). So the late morning breakfast usually consists of 2 scrambled eggs, more fruit (often strawberries) and some carb. The carb is often a GF frozen waffle with peanut butter, or sprouted avocado toast, or the latest the 2 ingredient homemade bagel.
2 Ingredient Homemade Bagels (From EverythingErica)
What I Used:
1 cup white flour
1 cup greek yogurt
2-3 Tbsp Trader Joe's Everything But The Bagel Seasoning
1 egg, beaten for an eggwash
How To:
In a bowl, mix the flour and greek yogurt by hand, kneading until one large cohesive ball
Slice into 4 equal amounts
Roll by hand into long ropes, then shape into bagels
Dunk one side in the egg mixture or use a brush to coat the top
Place them on a sprayed or parchment lined baking sheet + sprinkle liberally with the seasoning
Bake at 350 for 23 minutes then set on broil for 2-3 minutes until golden
Best when served fresh, otherwise keep them in a sealed contianer and toast before eating again.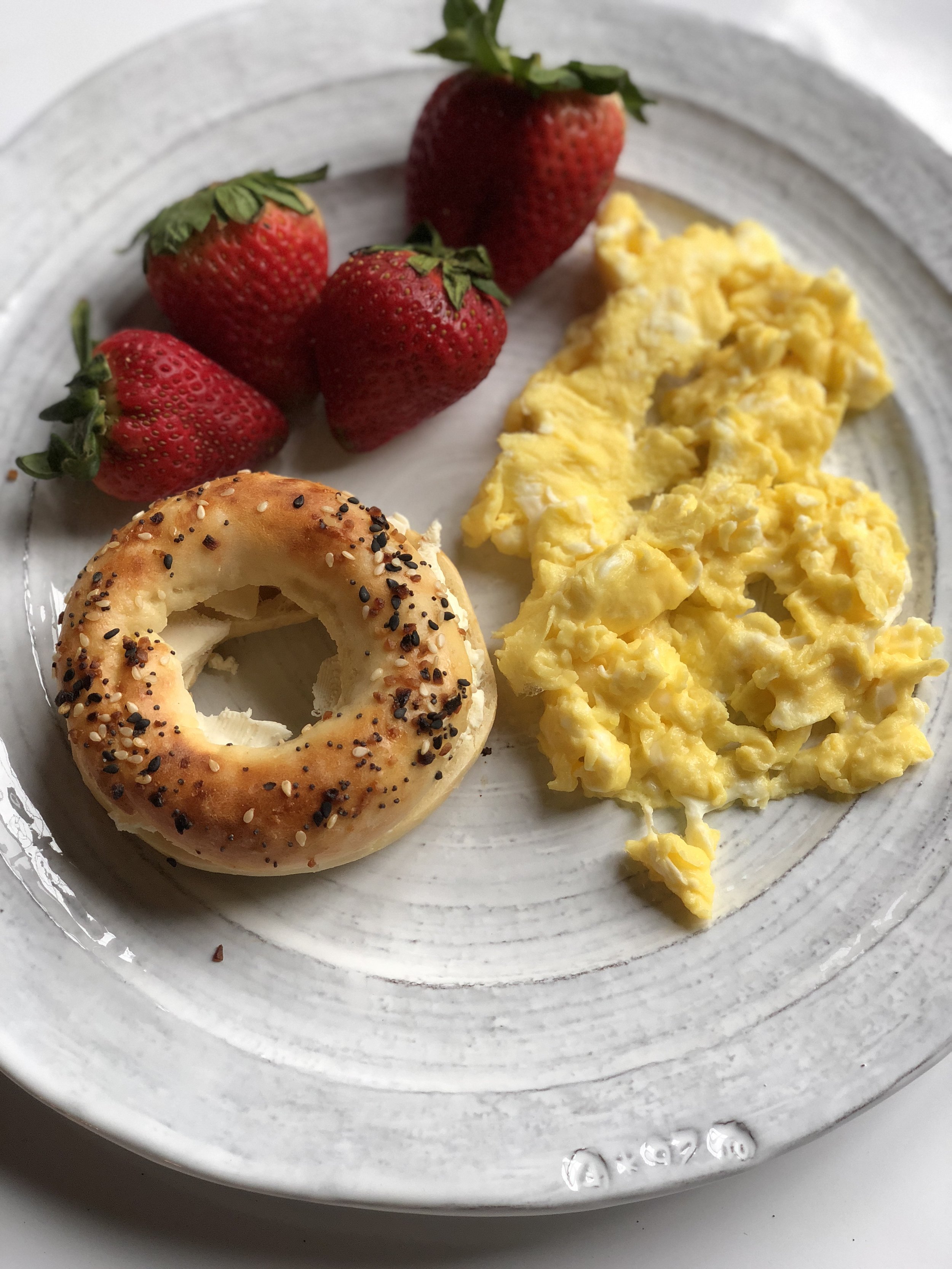 For product details on the kitchen tools I used to make this and the serving pieces in these photos head to my LikeToKnow.It Page or shop directly below!